"I never call myself a poet…"
– Robert Frost
A Selection of Robert Frost's Poetry
We've selected a variety of Frost's poetry from among those no longer under copyright.  Thus, the poems are among his earlier works and are primarily from the collections: North of Boston. New Hampshire and Mountain Interval.  Frost's earliest book, A Boy's Will, that was first published in England and then later in the United States,  remains under copyright.
Many of these poems vividly describe natural scenes – fields,  birds, streams; others explore the relationships between people, and still others speak to personal longings.  The language can be hopeful, teasing, resigned, and always packed with meaning deeper than the words alone can convey.
The Tuft of Flowers
The Tuft of Flowers was an early poem, probably written before 1900. (It was published in  A Boy's Will in 1913.)  This poem was an instrumental tool in getting Frost his first important teaching job – at Pinkerton Academy in Derry, New Hampshire. The date was 1906, and Frost was encouraged by the minister to read some of his poetry at an upcoming event at the local Congregational Church. As Jay Parini tells the story, "Frost explained that he had never before read his work in public, and that he would be too frightened to do so." Frost agreed to attend if the minister would read The Tuft of Flowers. Frost selected this poem because he thought they would appreciate the last, moralizing couplet, "Men work together…" The minister liked the poem and so did the audience that included several teachers from Pinkerton. Frost was invited to join the faculty on a part-time basis that later became full-time.1
I went to turn the grass once after one
Who mowed it in the dew before the sun.
The dew was gone that made his blade so keen
Before I came to view the levelled scene.
I looked for him behind an isle of trees;
I listened for his whetstone on the breeze.
But he had gone his way, the grass all mown,
And I must be, as he had been,—alone,
'As all must be,' I said within my heart,
'Whether they work together or apart.'
But as I said it, swift there passed me by
On noiseless wing a 'wildered butterfly,
Seeking with memories grown dim o'er night
Some resting flower of yesterday's delight.
And once I marked his flight go round and round,
As where some flower lay withering on the ground.
And then he flew as far as eye could see,
And then on tremulous wing came back to me.
I thought of questions that have no reply,
And would have turned to toss the grass to dry;
But he turned first, and led my eye to look
At a tall tuft of flowers beside a brook,
A leaping tongue of bloom the scythe had spared
Beside a reedy brook the scythe had bared.
The mower in the dew had loved them thus,
By leaving them to flourish, not for us,
Nor yet to draw one thought of ours to him.
But from sheer morning gladness at the brim.
The butterfly and I had lit upon,
Nevertheless, a message from the dawn,
That made me hear the wakening birds around,
And hear his long scythe whispering to the ground,
And feel a spirit kindred to my own;
So that henceforth I worked no more alone;
But glad with him, I worked as with his aid,
And weary, sought at noon with him the shade;
And dreaming, as it were, held brotherly speech
With one whose thought I had not hoped to reach.
'Men work together,' I told him from the heart,
'Whether they work together or apart.'
Writing in 1916, Frost's good friend Louis Untermeyer characterized his work:
"His poetry lives with a particular aliveness because it expresses living people. Other poets have written about people. But Robert Frost's poems are the people; they work, and walk about, and converse, and tell their stories with the freedom of common speech…
This sense of universal understanding, is in everything Frost has written, even the earliest. 'The Tuft of Flowers,' a poem in his first volume, expresses the whole spirit of human participation. Even those who think they work alone, apart from others, have more than they know in common."2
Mending Wall
Mending Wall was published in North of Boston in 1914.  In an author's note,  Frost wrote that the poem "takes up the theme where A Tuft of Flowers [sic] in A Boy's Will laid it down." 3 He is referring to "The Tuft of Flowers" from his previous (1913) volume, especially to that poem's closing lines:
'Men work together,' I told him from the heart,
'Whether they work together or apart.'
Something there is that doesn't love a wall,
That sends the frozen-ground-swell under it,
And spills the upper boulders in the sun;
And makes gaps even two can pass abreast.
The work of hunters is another thing:
I have come after them and made repair
Where they have left not one stone on a stone,
But they would have the rabbit out of hiding,
To please the yelping dogs. The gaps I mean,
No one has seen them made or heard them made,
But at spring mending-time we find them there.
I let my neighbor know beyond the hill;
And on a day we meet to walk the line
And set the wall between us once again.
We keep the wall between us as we go.
To each the boulders that have fallen to each.
And some are loaves and some so nearly balls
We have to use a spell to make them balance:
'Stay where you are until our backs are turned!'
We wear our fingers rough with handling them.
Frost's friend, John Walsh relates that Mending Wall was inspired by the stone walls at Kingsbarns in Scotland where Frost visited in the fall of 1913. J. C. Smith was walking with Frost when they came upon "dry stone dykes" of the loosely heaped unmortared variety that Frost had known in Derry (NH).

Subsequently, Frost was to recall that he wrote his poem in a mood of homesickness — while 'thinking of the old wall that I hadn't mended in several years and which must be in a terrible condition.'4
Oh, just another kind of out-door game,
One on a side. It comes to little more:
There where it is we do not need the wall:
He is all pine and I am apple orchard.
My apple trees will never get across
And eat the cones under his pines, I tell him.
He only says, 'Good fences make good neighbors.'
Spring is the mischief in me, and I wonder
If I could put a notion in his head:
'Why do they make good neighbors? Isn't it
Where there are cows? But here there are no cows.
Before I built a wall I'd ask to know
What I was walling in or walling out,
And to whom I was like to give offense.
Something there is that doesn't love a wall,
That wants it down.' I could say 'Elves' to him,
But it's not elves exactly, and I'd rather
He said it for himself. I see him there
Bringing a stone grasped firmly by the top
In each hand, like an old-stone savage armed.
He moves in darkness as it seems to me,
Not of woods only and the shade of trees.
He will not go behind his father's saying,
And he likes having thought of it so well
He says again, 'Good fences make good neighbors.'
After Apple-Picking
After Apple-Picking was published in North of Boston in 1914.
My long two-pointed ladder's sticking through a tree
Toward heaven still,
And there's a barrel that I didn't fill
Beside it, and there may be two or three
Apples I didn't pick upon some bough.
But I am done with apple-picking now.
Essence of winter sleep is on the night,
The scent of apples: I am drowsing off.
I cannot rub the strangeness from my sight
I got from looking through a pane of glass
I skimmed this morning from the drinking trough
And held against the world of hoary grass.
It melted, and I let it fall and break.
But I was well
Upon my way to sleep before it fell,
And I could tell
What form my dreaming was about to take.
Magnified apples appear and disappear,
Stem end and blossom end,
And every fleck of russet showing clear.
My instep arch not only keeps the ache,
It keeps the pressure of a ladder-round.
I feel the ladder sway as the boughs bend.
And I keep hearing from the cellar bin
The rumbling sound
Of load on load of apples coming in.
For I have had too much
Of apple-picking: I am overtired
Of the great harvest I myself desired.
There were ten thousand thousand fruit to touch,
Cherish in hand, lift down, and not let fall.
For all
That struck the earth,
No matter if not bruised or spiked with stubble,
Went surely to the cider-apple heap
As of no worth.
One can see what will trouble
This sleep of mine, whatever sleep it is.
Were he not gone,
The woodchuck could say whether it's like his
Long sleep, as I describe its coming on,
Or just some human sleep.

"The synecdochal work here is that of picking apples, putting them away for later use; it represents the work of picking poems from the tree of inspiration, choosing just the best ones to 'Cherish in hand, lift down, and not let fall."  These apples are the fruits of summer, the fruits of creativity at its peak.  One must carefully harvest them, treasure them."5
Rose Pagonias
Rose Pagonias was published in A Boy's Will in 1913 and is considered a late Victorian-sounding poem. It was written before Frost moved to the farm in Derry, after which time his poetry "exhibited a rugged syntax based on the rhythms of living speech. 6
In introducing this poem, Frost's daughter, Leslie, remembered, "We used to go looking for flowers at the right time: Jack-in-the-Pulpit,  yellow Lady Slippers, Rose Pagonias, Purple Fringed Orchis.  And the little meadow where the Rose Pagonias bloomed was memorialized in the poem called Rose Pagonia." 7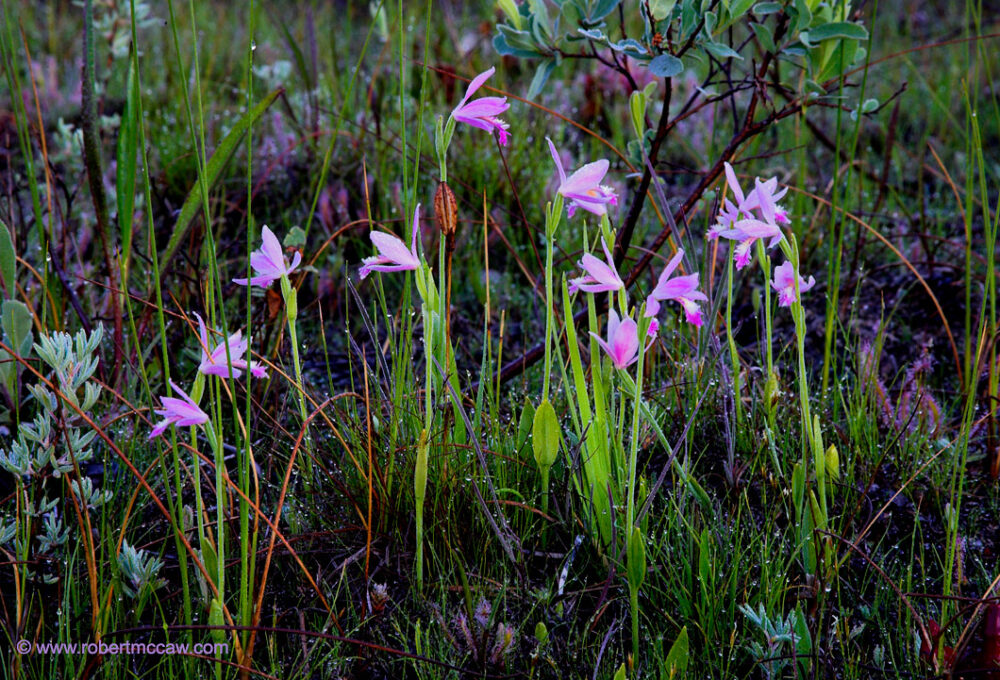 A saturated meadow,
Sun-shaped and jewel-small,
A circle scarcely wider
Than the trees around were tall;
Where winds were quite excluded,
And the air was stifling sweet
With the breath of many flowers,—
A temple of the heat.
These were bowed us in the burning,
As the sun's right worship is,
To pick where none could miss them
A thousand orchises;
For though the grass was scattered,
Yet every second spear
Seemed tipped with wings of color,
That tinged the atmosphere.
We raised a simple prayer
Before we left the spot,
That in the general mowing
That place might be forgot;
Or if not all is favoured,
Obtain such grace of hours,
That none should mow the grass there
While so confused with flowers.
The Road  Not Taken
The Road Not Taken was published in Mountain Interval in 1916. In December 1916, Frost accepted Alexander Meiklejohn's invitation to join the Amherst College faculty. Meiklejohn, the college president, wrote to Frost that he had read aloud The Road Not Taken in chapel, and announced that Frost would be coming to Amherst, to which the boys applauded vigorously and were delighted. 8
Two roads diverged in a yellow wood,
And sorry I could not travel both
And be one traveler, long I stood
And looked down one as far as I could
To where it bent in the undergrowth;
Then took the other, as just as fair,
And having perhaps the better claim,
Because it was grassy and wanted wear;
Though as for that the passing there
Had worn them really about the same,
And both that morning equally lay
In leaves no step had trodden black.
Oh, I kept the first for another day!
Yet knowing how way leads on to way,
I doubted if I should ever come back.
I shall be telling this with a sigh
Somewhere ages and ages hence:
Two roads diverged in a wood, and I—
I took the one less traveled by,
And that has made all the difference.
Robert Frost wrote "The Road Not Taken" as a joke for a friend, the poet Edward Thomas. When they went walking together, Thomas was chronically indecisive about which road they ought to take and—in retrospect—often lamented that they should, in fact, have taken the other one. Soon after writing the poem in 1915, Frost griped to Thomas that he had read the poem to an audience of college students and that it had been "taken pretty seriously … despite doing my best to make it obvious by my manner that I was fooling. … Mea culpa." However, Frost liked to quip, "I'm never more serious than when joking." As his joke unfolds, Frost creates a multiplicity of meanings, never quite allowing one to supplant the other—even as "The Road Not Taken" describes how choice is inevitable.9
Ilyssa Forman, Amherst Class of 2022 reflects on The Road Not Taken:
"The Road Not Taken" is usually interpreted as prompting people to take an unconventional, path. Out-of-context "Two roads diverged in a wood, and I—/I took the one less traveled by,/And that has made all the difference." appears to be celebrating individualism and personal choices that go against the norm.
However, upon a re-reading of the first two stanzas, it seems that Frost looks down both paths without perceiving a difference between them. He writes: "Though as for that the passing there/Had worn them really about the same." If both paths were equally fair from the perspective of the narrator, then his choice to walk down one path was random, not calculated. Rather than attributing to the narrator an unconventional choice, Frost deprives the narrator of control over the choice that he makes. The decision is arbitrary . Read this way, "The Road Not Taken" is a commentary on individuals navigating a myriad of choices. What matters is not which path they choose, but that they make a decision at all. Frost's portrayal of the chosen path as "the one less traveled by" at the conclusion of the poem may be a later boast by the narrator rather than a reality.
This poem demonstrates Frost's mastery as a poet, fully appreciating the duality of language. Frost deliberately composed his works with simple and more complex interpretations in mind. The multi-faceted nature of his poetry is his legacy. We continue to study Frost's works in the hopes of plumbing complexity amid specificity. 10
"Unless you are at home in the metaphor, unless you've had your proper poetical education in the metaphor, you are not safe anywhere. Because you are not as ease with figurative values: you don't know the metaphor in its strength and weakness. You don't know how far you can expect to ride it and when it may break down with you. You are not safe in science; you are not safe in history."
– Robert Frost 11
The Oven Bird
The Oven Bird was published in Mountain Interval in 1916.  his poem presents, in about as brief a compass as is possible, the central dilemma of Romanticism: If life starts out so well, so full of possibility, what are we to make of the inevitable decline into the difficulties of maturity? 12
There is a singer everyone has heard,
Loud, a mid-summer and a mid-wood bird,
Who makes the solid tree trunks sound again.
He says that leaves are old and that for flowers
Mid-summer is to spring as one to ten.
He says the early petal-fall is past
When pear and cherry bloom went down in showers
On sunny days a moment overcast;
And comes that other fall we name the fall.
He says the highway dust is over all.
The bird would cease and be as other birds
But that he knows in singing not to sing.
The question that he frames in all but words
Is what to make of a diminished thing.
Hyla Brook
Hyla Brook was published in Mountain interval in 1916. In our companion book, JFK: The Last Speech, Jay Parini discusses Hyla Brook as one of Frost's most intriguing early poems. "The poet considers other ways that water – always a symbol of life –is lost or transmogrified. This poem, like so many of Frost's poems, is really about writing, about the loss of imaginative powers. The brook represents the creative spirit, and by June it has 'run out of song and speed.' … The dry bed of the brook becomes 'a faded paper sheet,' the sheet the poet works on, that shows a lack of energy, refusing to yield a poem." 14
By June our brook's run out of song and speed.
Sought for much after that, it will be found
Either to have gone groping underground
(And taken with it all the Hyla breed
That shouted in the mist a month ago,
Like ghost of sleigh-bells in a ghost of snow)—
Or flourished and come up in jewel-weed,
Weak foliage that is blown upon and bent
Even against the way its waters went.
Its bed is left a faded paper sheet
Of dead leaves stuck together by the heat—
A brook to none but who remember long.
This as it will be seen is other far
Than with brooks taken otherwhere in song.
We love the things we love for what they are.
The Hyla is a small tree frog.
Birches
Birches was published in Mountain Interval in 1916.
When I see birches bend to left and right
Across the lines of straighter darker trees,
I like to think some boy's been swinging them.
But swinging doesn't bend them down to stay
As ice-storms do. Often you must have seen them
Loaded with ice a sunny winter morning
After a rain. They click upon themselves
As the breeze rises, and turn many-colored
As the stir cracks and crazes their enamel.
Soon the sun's warmth makes them shed crystal shells
Shattering and avalanching on the snow-crust—
Such heaps of broken glass to sweep away
You'd think the inner dome of heaven had fallen.
They are dragged to the withered bracken by the load,
And they seem not to break; though once they are bowed
So low for long, they never right themselves:
You may see their trunks arching in the woods
Years afterwards, trailing their leaves on the ground
Like girls on hands and knees that throw their hair
Before them over their heads to dry in the sun.
But I was going to say when Truth broke in
With all her matter-of-fact about the ice-storm
I should prefer to have some boy bend them
As he went out and in to fetch the cows—
Some boy too far from town to learn baseball,
Whose only play was what he found himself,
Summer or winter, and could play alone.
One by one he subdued his father's trees
By riding them down over and over again
Until he took the stiffness out of them,
And not one but hung limp, not one was left
For him to conquer. He learned all there was
To learn about not launching out too soon
And so not carrying the tree away
Clear to the ground. He always kept his poise
To the top branches, climbing carefully
With the same pains you use to fill a cup
Up to the brim, and even above the brim.
Then he flung outward, feet first, with a swish,
Kicking his way down through the air to the ground.
So was I once myself a swinger of birches.
And so I dream of going back to be.
It's when I'm weary of considerations,
And life is too much like a pathless wood
Where your face burns and tickles with the cobwebs
Broken across it, and one eye is weeping
From a twig's having lashed across it open.
I'd like to get away from earth awhile
And then come back to it and begin over.
May no fate willfully misunderstand me
And half grant what I wish and snatch me away
Not to return. Earth's the right place for love:
I don't know where it's likely to go better.
I'd like to go by climbing a birch tree,
And climb black branches up a snow-white trunk
Toward heaven, till the tree could bear no more,
But dipped its top and set me down again.
That would be good both going and coming back.
Following his father's death in San Francisco, Robert, his mother and sister moved to Lawrence, Massachusetts to live with his father's parents, and soon moved on to an apartment in Salem, New Hampshire where his mother had found a job teaching school.  Frost enjoyed the company of a nearby  aunt and uncle who lived on a farm and introduced him to rural life.  There were maples for sugaring, woodlots of beech and pine, berries for picking.  "Frost tried his hand, for the first time, at swinging birches. 'It was almost sacrilegious climbing a birch tree till it bent, till it gave and swooped to the ground.'" 15
Birches, as well as After Apple-Picking, Home Burial, and Mending Walls were written while the Frost's lived in Beaconsfield, England

'Out, Out –'
'Out, Out — ' was published in Mountain Interval in 1916. It was the subject of an unusual class 92 years later.
A January 2008 article in the Middlebury Campus described vandalism to the former summer home of Robert Frost.
"Police say vandals shattered a window to gain entrance to the [Homer Noble] farmhouse and proceeded to destroy tables, chairs, pictures, light fixtures and dishes, torch wicker furniture in the fireplace to warm the unheated building, discharge two fire extinguishers …" 16
Perhaps the most meaningful aspect of the vandals' punishment was the obligation to attend a class on Frost's poetry, taught by Jay Parini. The poems discussed were The Road Not Taken and Out, Out–, a story about the death of a young man. 17
Parini knew that each of the students had at some point stood and looked over the Green Mountains and experienced the glory of the view. However, they "were unprepared for the sudden death of the boy, the shocking finality of it, and the fact that those who were not the 'one dead' turned immediately back to work."
Months later, Parini reflected on the experience: "My guess is that they know a lot more about Frost as a presiding spirit in American poetry now than they did before the break-in. More importantly, they know that poetry matters (at least to some people) and that it can help us live our lives more attentively – if only they will give themselves up to the language as it moves through time and space, over and again." 18
The buzz saw snarled and rattled in the yard
And made dust and dropped stove-length sticks of wood,
Sweet-scented stuff when the breeze drew across it.
And from there those that lifted eyes could count
Five mountain ranges one behind the other
Under the sunset far into Vermont.
And the saw snarled and rattled, snarled and rattled,
As it ran light, or had to bear a load.
And nothing happened: day was all but done.
Call it a day, I wish they might have said
To please the boy by giving him the half hour
That a boy counts so much when saved from work.
His sister stood beside him in her apron
To tell them 'Supper.' At the word, the saw,
As if to prove saws knew what supper meant,
Leaped out at the boy's hand, or seemed to leap—
He must have given the hand. However it was,
Neither refused the meeting. But the hand!
The boy's first outcry was a rueful laugh,
As he swung toward them holding up the hand
Half in appeal, but half as if to keep
The life from spilling. Then the boy saw all—
Since he was old enough to know, big boy
Doing a man's work, though a child at heart—
He saw all spoiled. 'Don't let him cut my hand off—
The doctor, when he comes. Don't let him, sister!'
So. But the hand was gone already.
The doctor put him in the dark of ether.
He lay and puffed his lips out with his breath.
And then—the watcher at his pulse took fright.
No one believed. They listened at his heart.
Little—less—nothing!—and that ended it.
No more to build on there. And they, since they
Were not the one dead, turned to their affairs.
'Out, Out –' was based on the true story of the death of a youth in a sawing machine accident in the town of Bethlehem. 19
"However heartless these lines have sounded to some ears, Frost is making a point about a way of dealing with grief; by plunging back into the affairs of life, which demand attention (especially in the context of a poor farm at the turn of the century.)" 20 This was the reality the Frost family experienced when their three year-old son Elliot died.
The Gift Outright
The Gift Outright was published in 1942.  President-elect Kennedy invited Frost to speak at his inauguration and Frost's telegraphed reply was, "If you can bear at your age the honor of being made president of the United States, I ought to be able at my age to bear the honor of taking some part in your inauguration. I may not be equal to it but I can accept it for my cause – the arts, poetry, now for the first time taken into the affairs of statesmen." 21 Robert Frost spoke from memory The Gift Outright at the Inauguration, and at the President's request, he changed "would" in the final line to the more definite "will."
Frost's intent had been to read a new poem (Dedication) he had composed for the occasion as a preamble to The Gift Outright, but he was unable to do so in the glaring sun. See the typescript of Dedication (For John F. Kennedy's Inauguration) that Frost gave to Stewart Udall
The land was ours before we were the land's.
She was our land more than a hundred years
Before we were her people. She was ours
In Massachusetts, in Virginia,
But we were England's, still colonials,
Possessing what we still were unpossessed by,
Possessed by what we now no more possessed.
Something we were withholding made us weak
Until we found out that it was ourselves
We were withholding from our land of living,
And forthwith found salvation in surrender.
Such as we were we gave ourselves outright
(The deed of gift was many deeds of war)
To the land vaguely realizing westward,
But still unstoried, artless, unenhanced,
Such as she was, such as she would become.
Summoning artists to participate
In the august occasions of the state
Seems something artists ought to celebrate…
Read the full text of Dedication.
Due to copyright restrictions, Dedication is not printed here.
Two Tramps in Mud Time
Two Tramps in Mud Time was published in the Saturday Review of Literature, October 6, 1934.22
Out of the mud two strangers came
And caught me splitting wood in the yard,
And one of them put me off my aim
By hailing cheerily "Hit them hard!"
I knew pretty well why he dropped behind
And let the other go on a way.
I knew pretty well what he had in mind:
He wanted to take my job for pay.
Good blocks of beech it was I split,
As large around as the chopping block;
And every piece I squarely hit
Fell splinterless as a cloven rock.
The blows that a life of self-control
Spares to strike for the common good
That day, giving a loose to my soul,
I spent on the unimportant wood.
The sun was warm but the wind was chill.
You know how it is with an April day
When the sun is out and the wind is still,
You're one month on in the middle of May.
But if you so much as dare to speak,
A cloud comes over the sunlit arch,
A wind comes off a frozen peak,
And you're two months back in the middle of March.
A bluebird comes tenderly up to alight
And fronts the wind to unruffle a plume
His song so pitched as not to excite
A single flower as yet to bloom.
It is snowing a flake: and he half knew
Winter was only playing possum.
Except in color he isn't blue,
But he wouldn't advise a thing to blossom.
The water for which we may have to look
In summertime with a witching wand,
In every wheel rut's now a brook,
In every print of a hoof a pond.
Be glad of water, but don't forget
The lurking frost in the earth beneath
That will steal forth after the sun is set
And show on the water its crystal teeth.
The time when most I loved my task
These two must make me love it more
By coming with what they came to ask.
You'd think I never had felt before
The weight of an axhead poised aloft,
The grip on earth of outspread feet.
The life of muscles rocking soft
And smooth and moist in vernal heat.
Out of the woods two hulking tramps
(From sleeping God knows where last night,
But not long since in the lumber camps.)
They thought all chopping was theirs of right.
Men of the woods and lumberjacks,
They judged me by their appropriate tool.
Except as a fellow handled an ax,
They had no way of knowing a fool.
Nothing on either side was said.
They knew they had but to stay their stay
And all their logic would fill my head:
As that I had no right to play
With what was another man's work for gain.
My right might be love but theirs was need.
And where the two exist in twain
Theirs was the better right — agreed.
But yield who will to their separation,
My object in living is to unite
My avocation and my vocation
As my two eyes make one in sight.
Only where love and need are one,
And the work is play for mortal stakes,
Is the deed ever really done
For heaven and the future's sakes.
William Pritchard notes: "The poem has wonderful particularities and felicities of expression which are exercised – in the middle three stanzas – as 'background' material like the April weather or the appearance of a bird." 23
The sixth stanza recounts the perfection of a physical act with every part of the body alive and the resulting pleasure. This translates well to an athletic contest, and even to artistry. Consider the renowned, mature performer who needs to vacate center stage to make way for younger artists. However, it is the focus on work and honoring of laborers that endeared Frost to the Soviet Union of the 50's and 60's.
"Few poets in the history of English verse have written so well about work, or the pleasure of doing physical chores," says Jay Parini. After making his political/moral point that the tramps had the better right, Frost " takes away with the one hand what he has given in the other … he refuses to let it rest there. He wants to make a generalization about how, ideally, 'love and need are one,' even though the concrete situation of the poem seems to contradict this notion. As always in Frost's best work, various levels of argument swirl below the surface. " 24
Fragmentary Blue
Fragmentary Blue was published in the collection New Hampshire in 1922.
Why make so much of fragmentary blue
In here and there a bird, or butterfly,
Or flower, or wearing-stone, or open eye,
When heaven presents in sheets the solid hue?
Since earth is earth, perhaps, not heaven (as yet)—
Though some savants make earth include the sky;
And blue so far above us comes so high,
It only gives our wish for blue a whet.
Jay Parini writes in our companion book: "The poem invites us to think in synecdochal fashion.  Why make a great deal of fuss over blue in bits and pieces …" Frost turns this thought to earth and heaven and "puts the brakes on the transcendentalist wish to fly away… he felt the tug from above and below."  The sky is so high and "the living must trod the earth." 25
Stopping by Woods On a Snowy Evening
Stopping by Woods on a Snowy Evening was published in New Hampshire in 1923.  This is the poem that first united Robert Frost and John Kennedy in friendship and ambition. During his 1960 campaign for the presidency, Kennedy would conclude many of his speeches with the final line, "And miles to go before I sleep."
Upon Frost's death, Kennedy again referred to this line in the White House statement that concluded, "And now he sleeps."
Whose woods these are I think I know.
His house is in the village though;
He will not see me stopping here
To watch his woods fill up with snow.
My little horse must think it queer
To stop without a farmhouse near
Between the woods and frozen lake
The darkest evening of the year.
He gives his harness bells a shake
To ask if there is some mistake.
The only other sound's the sweep
Of easy wind and downy flake.
The woods are lovely, dark and deep,
But I have promises to keep,
And miles to go before I sleep,
And miles to go before I sleep.
The Lesson for Today – Final Stanza
And were an epitaph to be my story
I'd have a short one ready for my own.
I would have written of me on my stone:
I had a lover's quarrel with the world.
"I had a lover's quarrel with the world." No reviewer has written, none will write, a more accurate summary of the poet' spirit, a contemplation of the world which is free to question, even to criticize, but always with understanding, always with earnest love. — Louis Untermeyer 26
The Lesson for Today was published in A Witness Tree in 1942.
Notes:
Our links to recordings of Robert Frost are to third parties, such as YouTube sites.  If links are broken please alert us via email to jfkthelastspeech@gmail.com.
The Tuft of Flowers:
1 Jay Parini,  Robert Frost a Life . Henry Holt and Company, 1999, pp 93-4.
2 Louis Untermeyer, Robert Frost's Poems.  Washington Square Press, 1916, p 16.
Mending Wall:
3  Austin Allen, "Robert Frost 'Mending Wall'" on website: https://www.poetryfoundation.org/articles/150774/robert-frost-mending-wall,,jjljl
4 John Evangelist Walsh, Into My Own The English Years of Robert Frost. Grove Press, 1988. pp 118-9.
After Apple-Picking:
5 Jay Parini,"Robert Frost and the Nature of New England" JFK: The Last Speech. Mascot Books, 2018, p 254.
Rose Pagonias
6 Jay Parini,  Robert Frost a Life. Henry Holt and Company, 1999, p 91,  p120
7 Leslie Frost, Derry Down Derry: A Narrative Reading by Lesley Frost of Poems by Robert Frost.  Recording.
The Road Not Taken:
8 Jay Parini,  Robert Frost a Life. Henry Holt and Company, 1999, p 176.
9 Katherine Robinson, Poetry Foundation website: https://www.poetryfoundation.org/poets/katherine-robinson
10 Ilyssa Forman interned with Reunion '64's JFK: The Last Speech </em1project during the summer of 2020.
Frost Quote:
11 Robert Frost, "Education by Poetry," Amherst Graduates Quarterly, February 1931.
Oven Bird:
12 https://www.greenmountainaudubon.org/the-hermit-thrush/the-ovenbird-a-robert-frost-poem-and-analysis-by-huck-gutman
13 Ibid
Hyla Brook:
14 Jay Parini,"Robert Frost and the Nature of New England" JFK: The Last Speech. Mascot Books, 2018, p 254.
Birches:
15 Jay Parini,  Robert Frost a Life. Henry Holt and Company, 1999, p 22.
'Out, Out –'
16 Kelly Janis, Middlebury Campus, January 10, 2008.
17 Jay Parini, "Poetic Justice: Robert Frost and roads of right and wrong," Robertson Publishing, October 1, 2020. See: https://www.robertsonpublishing.com/web-pages/Jay%20Parini.html
18 ibid.
19 Jay Parini,  Robert Frost a Life. Henry Holt and Company, 1999, p 165.
20 ibid, p70.
The Gift Outright:
21 https://www.biography.com/news/john-f-kennedy-inauguration-robert-frost-poemTwo
Tramps in Mud Time:
22 Per Public Domain Poetry, Two Tramps in Mud Time is in the public domain: http://www.public-domain-poetry.com/robert-lee-frost/two-tramps-in-mud-time-1268
23 William H. Pritchard, Frost A Literary Life Reconsidered. Oxford University Press, 1984. p 205.
24 Jay Parini,  Robert Frost a Life. Henry Holt and Company, 1999, p 289.
Fragmentary Blue:
25 Jay Parini,"Robert Frost and the Nature of New England" JFK: The Last Speech. Mascot Books, 2018, p 250.
The Lesson for Today:
26 Louis Untermeyer, Robert Frost's Poems.  Washington Square Press, 1916, p 14.
Photo Credits:
Rose Pagonias. Photograph by Robert McCaw, Copyright Robert McCaw, www.robertmccaw.com.
Reflecting on the poem, Mr. McCaw said: "I can't imagine a place with 'thousands' of these beauties where 'every second spear is tipped with pink'. I have only seen this beautiful orchid in two places with less than a dozen in each spot. So delicate, so vulnerable, and so beautiful."
The exclusive use of all other photos has been granted to Reunion '64.